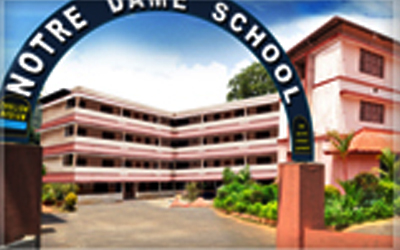 Notre Dame School traces its origin to its spiritual mother St. Julie Billiart of France, who founded the Congregation of the Sisters of Notre Dame de Namur in 1804. Her charismatic spirit of finding God's goodness in everything was handed over to our own foundress, Sister Maria Aloysia Wolbring, who instituted the Congregation of the Sisters of Notre Dame in Cosfeld, Germany, in 1850.
Urged by the charism of St. Julie and Sr. Aloysia, Notre Dame has established foundations throughout the world. The institution gives witness to God's love by involvement in various educational, social and medical services in Germany, Italy, England, Holland, United States, South America, Indonesia, India, Korea, Paupa New Guinea, Africa and Philippines.
The first Notre Dame School in India was founded in Jamalpur, Bihar, in 1950. Today Notre Dame institutions are found in the states of Bihar, Jarkhand, Chattisgarh, Karnataka, West Bengal, Delhi, Tamil Nadu, Jammu and Kashmir, Kerala, Andhra Pradesh and Maharashtra.
"Lead me from Darkness to Light"
Notre Dame School is a Catholic institution administered by Barat Society (The sisters of Notre Dame). Notre Dame School was founded June 2001 in Vettikuzhy, Trissur, Kerala. Notre Dame is a French word which  means "Mother Mary".
The Notre Dame School is situated in Vettikuzhy – Chalakudy , in Thrissur district with a backdrop of mountains and splendid greenery. The quiet and lovely naturalistic surroundings in and around the school create a learning atmosphere for children. The school  provides ample opportunities for curricular , extra-curricular activities, thus enabling all around development of the students. The school encourages sportsmanship, development of students' talents and capabilities in various fields such as classical dance, music, craft, keyboard, Football, Magic  and other games.
Along with spacious classrooms, the school contains well-equipped Physics lab, Chemistry lab, Biology lab, computer labs, a spacious  playground, auditoriums and a large library. The well-maintained infrastructure and its usage promote effective teaching and learning .  The Campus is under the surveillance of CCTV for all safety measures. The school also has all fire- fighting equipments to keep the building safe.
We offer and assure you
1. Best quality education with affordable fee.
2. Intensive training in spoken English.
3. Excellent teaching by experienced staff.
4. Serene and peaceful atmosphere for better learning.